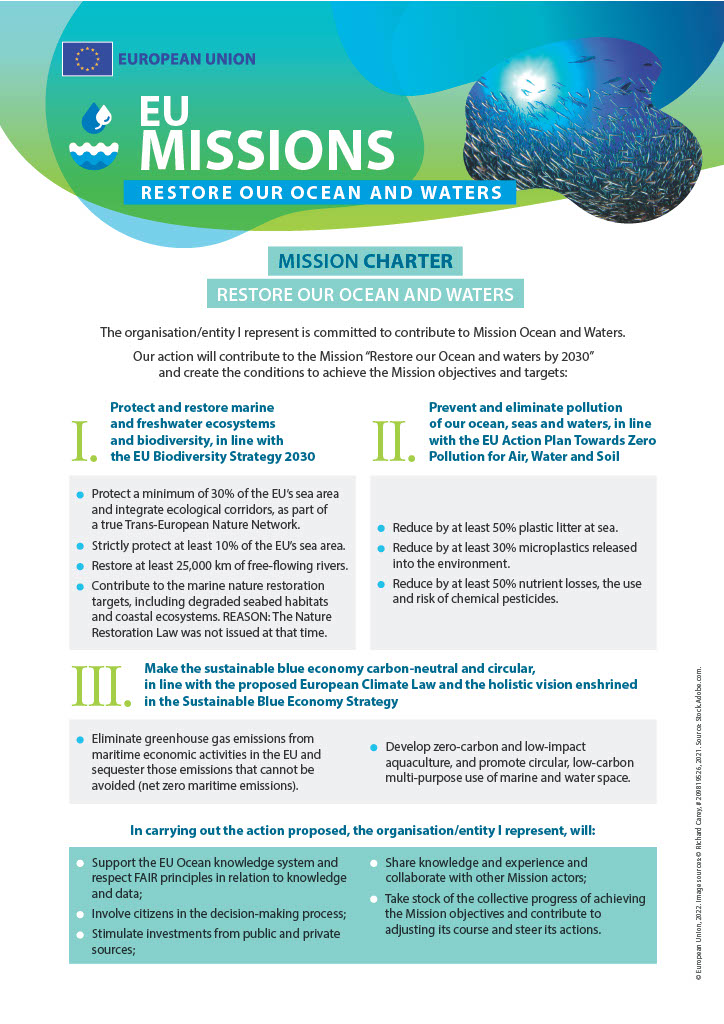 ProtoAtlantic is delighted to announce that specific actions and outputs from the project have been accepted under the EU Mission "Restore our Ocean and Waters".
With a 2030 target, the EU Mission "Restore our Ocean and Waters" aims to protect and restore the health of our ocean and waters through research and innovation, citizen engagement and blue investments. The Mission's new approach will address the ocean and waters as one and play a key role in achieving climate neutrality and restoring nature. The Mission supports regional engagement and cooperation through area-based "lighthouses" in major sea/river basins: Atlantic-Arctic, Mediterranean Sea, Baltic-North Sea, and Danube-Black Sea. Mission lighthouses are sites to pilot, demonstrate, develop and deploy the Mission activities across EU seas and river basins.
ProtoAtlantic's acceptance under this Mission is a recognition that actions from the project play a central role in delivering against and contributing to one or more of the following Mission Ocean and Waters objectives:
Protect and restore marine and freshwater ecosystems and biodiversity, in line with the EU Biodiversity Strategy 2030
Prevent and eliminate pollution of our ocean, seas and waters, in line with the EU Action Plan Towards Zero Pollution for Air, Water and Soil
Make the sustainable blue economy carbon-neutral and circular, in line with the proposed European Climate Law and the holistic vision enshrined in the Sustainable Blue Economy Strategy.
Further details about the EU Mission can be found here.