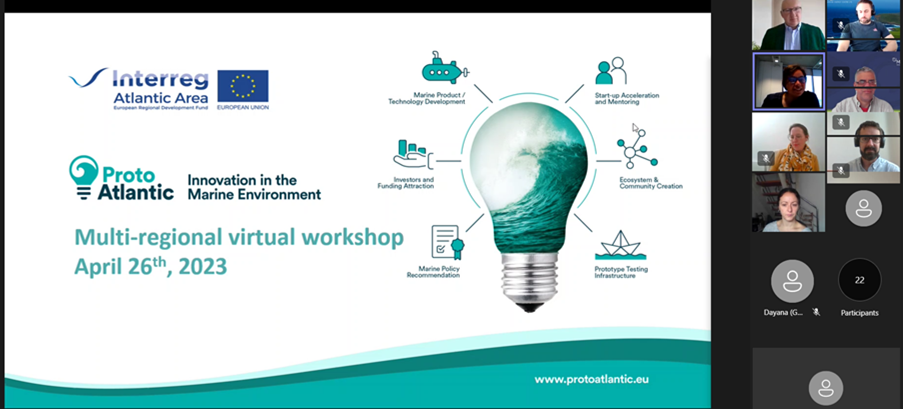 ProtoAtlantic hosted a multi-regional online stakeholder event on Wednesday, April 26th 2023, which was attended by over thirty-five critical marine and blue growth stakeholders across the Atlantic area.
The event involved three interactive workshop sessions with the stakeholders in attendance:
Improving Atlantic research and test facilities with new and innovative infrastructure, assets and subsea scenarios
Increasing the access to funding opportunities, new international markets and business strategic partners
Fostering the share of knowledge, coordination and common objectives among stakeholders in the marine ecosystem
The event was hosted by MaREI, University College Cork, and opened with a welcome from Jessica Giannoumis, project manager for the project in University College Cork. This was followed by a presentation by Dario Sosa, from Subsea Mecatronics, who discussed his experience of the ProtoAtlantic project and its valuable impact on his company. The event was facilitated by Dr. Lawrence Dooley, Principle Investigator and Senior Lecturer in Enterprise and Innovation at Cork University Business School.
There was extensive stakeholder engagement utilising a combination of engagement techniques including slido and open discussions focusing on the three workshop topics. Some preliminary outcomes from the event highlighted opportunities in further developing cross-regional collaboration by addressing infrastructure needs such as:
developing a European database of marine test resources
harmonising infrastructure access procedures, and
identifying specific contact persons for each facility.
Furthermore, stakeholders identified a need for better alignment of funding calls with early-stage demands of marine technologies, building more capacity of reviewers, and developing more support for SMEs at earlier stages of the pipeline.
Additionally, the stakeholders discussed the need for capacity building of the knowledge network, building trust among regional and cross-regional stakeholders, and building capacity to identify the right collaboration partners.
The event and workshops concluded with some final remarks and initial findings from Lawrence Dooley and Jessica Giannoumis, who thanked all the stakeholders for their attendance and particpation. Special thanks to Cathal Gannon for administrative support in the organisation of this event.