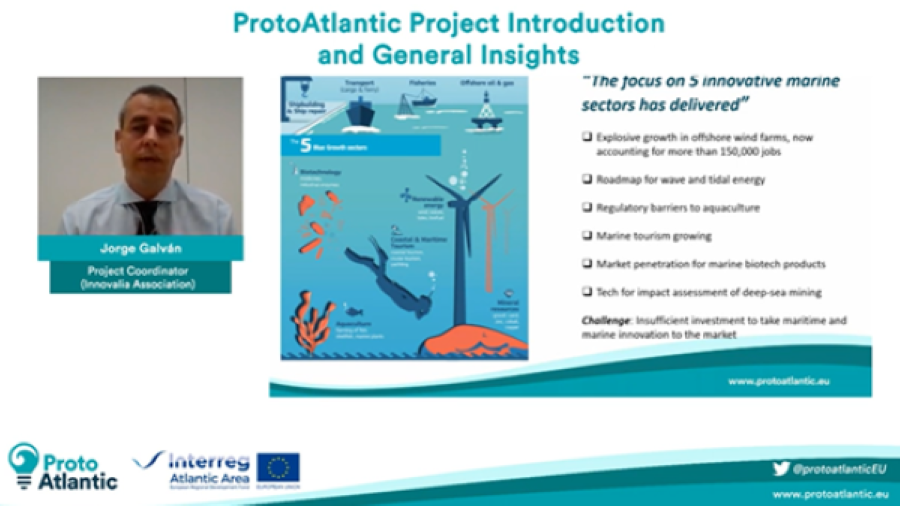 The ProtoAtlantic project hosted its Final Conference on Tuesday 19th October 2021, with the event being held online due to the ongoing COVID-19 pandemic. The Final Conference provided attendees with the opportunity to learn first-hand about the project results, findings and conclusions, as well as high-level insights from experts on current and innovative blue economy topics and supporting strategies. The Final Conference was attended by over 55 attendees on the day, while the event livestream has now been viewed 120 times on the ProtoAtlantic YouTube channel, further extending the reach of the conference.
The ProtoAtlantic Final Conference included sessions on European Strategies and Initiatives on Blue Growth, Policies and Ecosystems, Process Modelling, Business Acceleration and Infrastructures. Speakers included representatives from all project partners, as well as CARSA, PLOCAN, Green Energy Park, Israeli Coastal and Marine Engineering Research Institute, MaREI and Arrecife Systems. The Final Conference also included presentations from several companies supported by the ProtoAtlantic project, ARQ Asset Solutions and Subsea Mechatronics.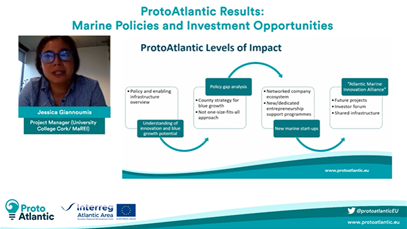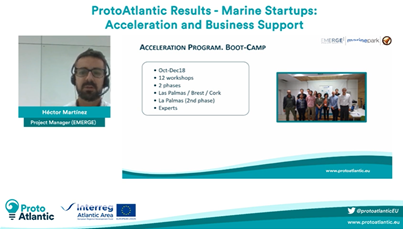 The Final Conference concluded with comments from Jorge Galván, Project Coordinator from Innovalia Association, on the prospects for future collaboration with the ProtoAtlantic partners, while an introduction was also provided for the Demo-Day activities taking place on Wednesday 20th October 2021, as part of the ProtoAtlantic Accelerator Program.
Further details about the conference agenda and speakers can be found here.